Hundreds attend Black Health and Wellbeing Fair in Streatham
Hundreds of Lambeth residents from Black African and Caribbean communities enjoyed an afternoon of health information, health checks and conversation last month in Streatham in an event organised by local GP practices.
Offering a holistic view of health and wellbeing
A wide range of organisations were at the event to offer holistic support to local people to improve their health and wellbeing. The fair offered health checks, including blood pressure measurement, as well as the opportunity to learn more about health and wellbeing, with health-related talks and Q&As on topics including chronic pain, prostate and other male cancers, and diabetes.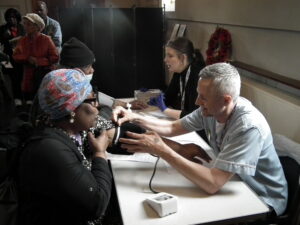 Community blood pressure checks

to

help

identify

people at

risk

 
Blood pressure measurements and other health checks were very popular. Several individuals were found to have high blood pressure that had not been detected previously, and were advised to follow up with their GP so they can be supported to manage this before suffering serious effects on their health. 
​

General practice working together to

support the

community
​Streatham Primary Care Network (PCN) of general practices led the event, working together with the social prescribing team and AT Medics Streatham PCN. Lambeth Together's Health and Wellbeing Bus, the health outreach team from AT Beacon Project and other voluntary organisations were also there to provide health advice and support. 
"The event's success was due to the strong partnership between the local NHS, Lambeth Council and community organisations who attended and brought their support and advice to the community", said Councillor Jim Dickson, Cabinet Member for Healthier Communities, who attended.  
​ ​This event also provided an opportunity to connect people with support in their neighbourhood from some of Lambeth's many health and wellbeing-related organisations. Participating organisations covered a wide range of interest areas including women's health, men's health, mental health, culturally specific healthy eating, and getting more active – with a lively boxercise session for people to try out. Representatives also attended from other organisations, including money advice and food banks.    
​Justin Hayes, GP lead at Streatham Primary Care Network and Lambeth Clinical and Care Professional Lead for Personalised Care, said:  
"It was a tremendous day with a great atmosphere. There were well over 300 attending, maybe 400. Many stayed several hours and there was a huge amount of engagement with community organisations. Our Social Prescribers from two PCNs had contact with nearly 50 people to be followed up, several for blood pressure with some likely new diagnoses of high blood pressure"
Events like this are key to achieving Lambeth Together's aspiration that people lead healthy lives and have good physical and emotional health and wellbeing for as long as possible. To achieve this ambitious aspiration, local health and care services have committed to working together at neighbourhood level to ensure Lambeth people are connected to communities that enable them to maintain good health.  
More information  
Read more about Lambeth Together's aspirations to improve health and care in Our Health, Our Lambeth (Lambeth's five-year health and care plan).   
Learn more about Lambeth Together's way of working with communities and how to get involved in community outreach.  
Find out more about Lambeth Together's high blood pressure priority and where to get your blood pressure checked.