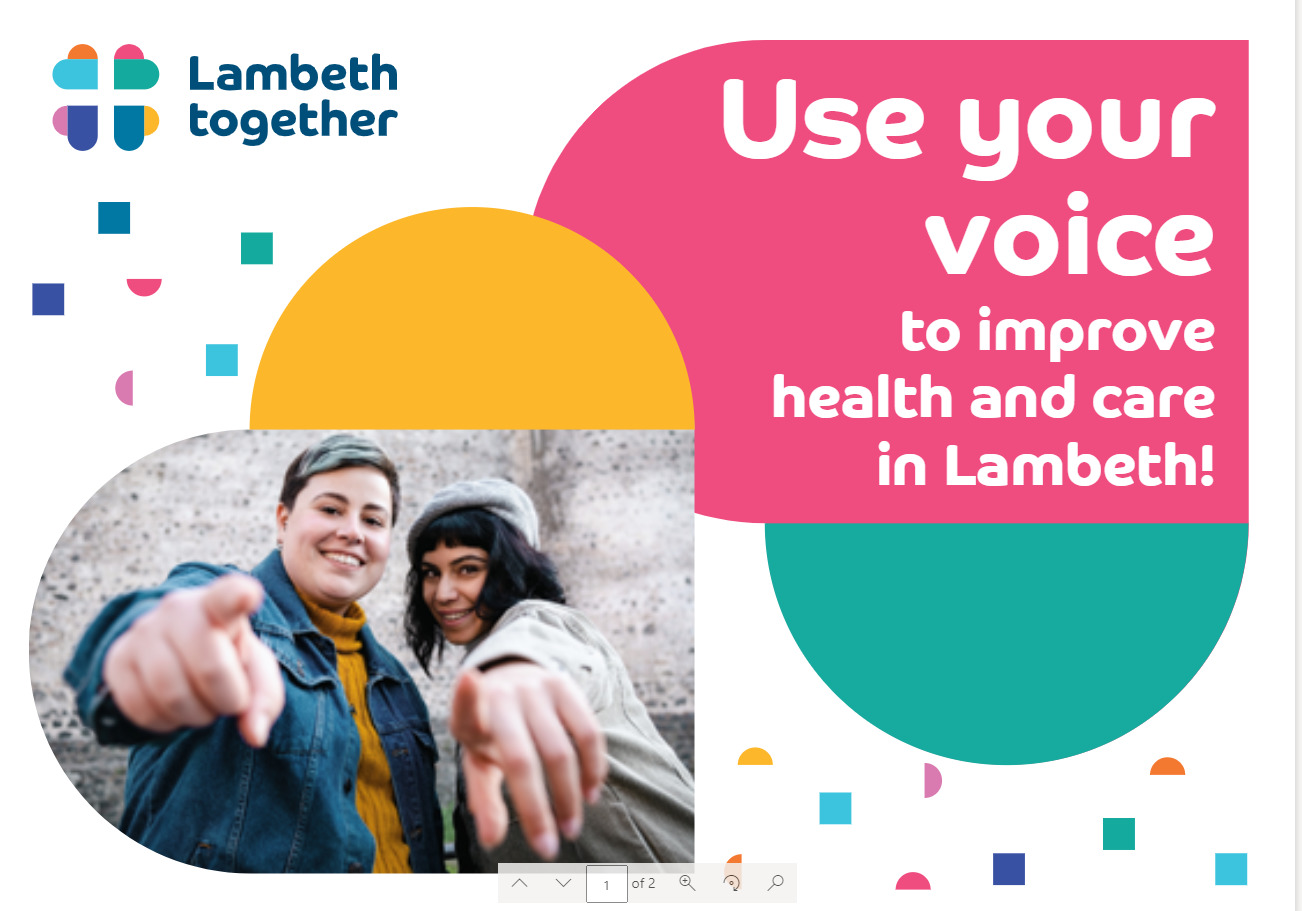 There are many ways to influence and support the work we do.
Come to our Public Forum to listen, start a conversation or ask a question!
Lambeth Together Board members want to know what matters to Lambeth people to help them plan health and care services.
You can come to take part in the Public Forum and also stay to watch the Board meeting afterwards. Find out about all the upcoming meetings, papers, and watch past meetings here.
About the Public Forum
Lambeth groups and residents are welcome to come to the Lambeth Together Public Forum to ask our Board questions about how health and care is planned, or to share ideas about how we can improve health and care services and reduce inequalities in health for people in Lambeth.
The Board meets regularly throughout the year and holds meetings in public and a Public Forum six times a year.
The Lambeth Together Public Forum is an informal meeting for people and groups interested in health and care to:
•  Meet local decision makers
•  Ask questions
•  Share what matters to you and your community
•  Influence plans for health and care in Lambeth
We want to hear from all different communities. So whether you're a volunteer or a faith leader, from a patient or carer group, a tenant or youth forum – if you're studying, working or living in Lambeth, your voice will make a difference.
If you'd like to know more about the Public Forum or how the Board works, we'd love to hear your ideas or questions. Just send an email to hello@lambethtogether.net.
Get involved with mental health, neighbourhood working or children's health and wellbeing
If you're a member of a voluntary or community group or if you work in a health-related group or service, you can ask about opportunities to get involved with individual projects and workstreams by contacting one of our Delivery Alliances:
The Living Well Network Alliance is making it easier for people to get help with their mental health needs. It already supports hundreds of people every month.
The Neighbourhood and Wellbeing Alliance brings together different services to improve health and care services for Lambeth residents facing long-term illness and a range of other health issues.
The Children and Young People Alliance works to make Lambeth one of the best places in the world for children and young people to grow up.
Get involved with wider health and care developments
Lambeth Together is part of South East London Integrated Care System (ICS), a partnership of health and care organisations that works together to improve health and how we support that across the boroughs of Lambeth, Southwark, Lewisham, Bexley, Bromley and Greenwich. South East London ICS is equally committed to working with people and communities in its programmes of work that affect people in all six boroughs.
Ask your health or care service if they have a user group you can join or visit their websites to see how they involve patients, service users and carers in their work. GP practices, hospitals, mental health, community healthcare providers and social care services need your ideas to help them improve. Have a look on their websites for more information.