Protect your child against childhood diseases
The best way to help protect your child against severe illness from polio, measles, mumps, rubella and other childhood diseases is to get them up to date with their routine vaccinations.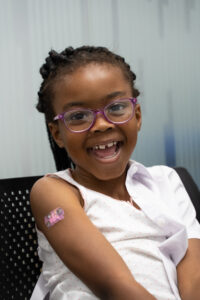 Get your children up to date with essential childhood vaccinations
Vaccinations to protect against a range of diseases such as polio, measles, mumps, and rubella (MMR) are free of charge and provide vital protection against serious illness and disease. While most children in Lambeth are vaccinated, a few children need to catch up with their routine immunisations.
If your child is not up to date with their vaccinations, we encourage you to attend a vaccination clinic as soon as possible. There are lots of ways you can do this.
For children aged five or under (not yet at school), please check their Red Book or contact a GP surgery to ensure they are up to date, and get the necessary vaccinations if not.
All parents and carers can contact their GP surgery at any time to get their children up to date with their vaccinations. If your child is not registered with a GP they are still entitled to free routine vaccinations.
Read more about children's vaccinations in South East London.
See a full list of childhood NHS vaccinations and when to have them 
Join an information workshop for parents and carers at a children's centre
Specialist nurses are hosting vaccination information question & answer workshops at our children's centres in Lambeth. This is a perfect opportunity for you to come in, ask any questions you might have, and get informed about childhood immunisations. Please contact the children's centre directly to reserve your spot.
The information workshops will run between 6 September – 29 February 2024
Children's flu vaccination clinics in Lambeth
Flu vaccination clinics are open to school aged children from Reception to Year 11. No appointment is needed – just turn up and wait. Locations and dates below:
For more information about these flu vaccination clinics visit https://sav.hrch.nhs.uk/flu/2023/Lambeth or call 0208 614 5495
Get more information about the vaccines
Read more about Lambeth Together's work to protect the health and wellbeing of children and young people in Lambeth