Hypertension – our aims
Tackling hypertension – or high blood pressure – is a top priority for Lambeth Together. This links to our partnership's aspirations to support people to lead healthy lives, to detect health conditions early and empower people to manage these conditions and avoid complications.
Our aim in the Neighbourhood and Wellbeing Alliance is to increase the number of people with known hypertension whose target blood pressure is achieved. Within this, we have a focus on inequalities, since high blood pressure affects some groups within our community much more than others.
Our key areas of focus
Our activity will focus on
reducing inequality by understanding the experiences of hypertension amongst communities experiencing the greatest inequalities in Lambeth
reviewing and refreshing the hypertension referral pathway, considering feedback from people who have high blood pressure about their experience of diagnosis, referral and support from different services
promoting community programmes for hypertension management, to enhance self-monitoring and management and reduce demand on hospital services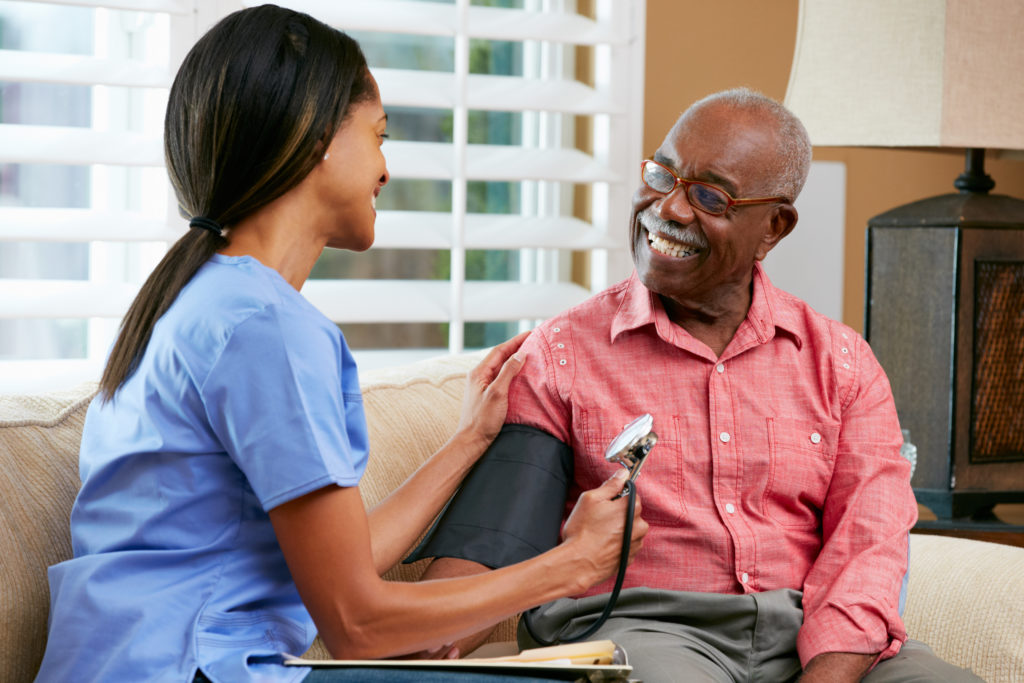 What is high blood pressure?
High blood pressure is also known as hypertension.
When your heart beats, it pumps blood around your body to give it the energy and oxygen it needs. As the blood moves, it pushes against your blood vessel walls – the strength of this pushing is your blood pressure. If it pushes with too much force, it puts a strain on your heart and blood vessels.
Why is high blood pressure a concern?
High blood pressure puts a strain on many parts of our system including blood vessels, heart, the brain, kidneys and eyes.
High blood pressure can put you at greater risk of developing life-threatening conditions such as:
heart disease, hear attacks or heart failure
strokes
peripheral arterial disease and aortic aneurysms
kidney disease
vascular dementia
High blood pressure is relatively common, affecting about one in four adults in the UK, and as many as one in three in Lambeth, according to local data. However, it often doesn't have noticeable symptoms, so the only way to find out is to have your blood pressure checked.
What can increase the risk of  blood pressure?
Although it is not always clear what causes high blood pressure, some things are known to increase the risk, such as
being overweight
eating too much salt
not doing enough exercise
smoking
drinking too much alcohol or drinks with caffeine
being under a lot of stress
having a relative with high blood pressure
being of Black African or Black Caribbean descent
How do I know if I have high blood pressure?
Blood pressure is recorded with 2 numbers indicating the pressure of your blood in your body. The higher number (systolic pressure) is the force at which your heart pumps blood around your body. The lower number (diastolic pressure) is the resistance to the blood flow in the blood vessels between heartbeats. They're both measured in millimetres of mercury (mmHg).
Ideally, we should all have a blood pressure reading between 90/60mmHg and 120/80mmHg.  The target for over-80s is below 150/90mmHg.
High blood pressure is considered to be from 140/90mmHg (or an average of 135/85mmHg at home) – or 150/90mmHg (or an average of 145/85mmHg at home) if you're over the age of 80.
Help to manage high blood pressure
Adults over the age of 40 should get their blood pressure checked regularly. You can get your blood pressure checked at a number of places including:
You can also check your blood pressure yourself with a home blood pressure monitor. Find out how to monitor your blood pressure at home from Blood Pressure UK
You can start taking steps today to lower your blood pressure and keep it in check. Read about the changes you can make to your diet and lifestyle, and the medications that are available if you need them.
Just been diagnosed with high blood pressure?
These websites will help you:
Are you at risk and you want to prevent high blood pressure?
In addition to the above, the following websites have useful information and tips to help you prevent high blood pressure:
Further information on high blood pressure
To find out more about hypertension, please visit the following resources:
More about us
To find out more about the NWDA and how you could work with us, visit our get involved with the NWDA page.