Outcome of consultation
The consultation on proposals to improve mental health inpatient services for Lambeth ran for 12 weeks and closed on 31 May 2020.
The Governing Body of NHS South East London Clinical Commissioning Group (SEL CCG) has the approved plans which will see the transformation of adult acute inpatient mental health wards for Lambeth residents with facilities moved to a new, fit-for-purpose building at the Maudsley Hospital, in Denmark Hill.
The decision was made by the Governing Body of SEL CCG at a meeting held in public on 16 July 2020, after considering feedback from a 12-week NHS public consultation.
The decision means that acute adult inpatient services including four specialist wards and a Psychiatric Intensive Care Unit (PICU), can move from out-of-date, poor quality facilities at Lambeth Hospital, in Landor Road, to a safer, more modern, purpose-built facility at the Maudsley Hospital.
Thank you to everyone who took the time to give their views. We heard from 235 individuals and groups. All responses have been independently analysed by NEL Healthcare Consulting and you will be able to read their consultation feedback report here.
Details of the meeting and papers will be published on the CCG website.
This consultation has now closed.
The information about the consultation is below.
Get involved and have your say – it's as simple as 1, 2, 3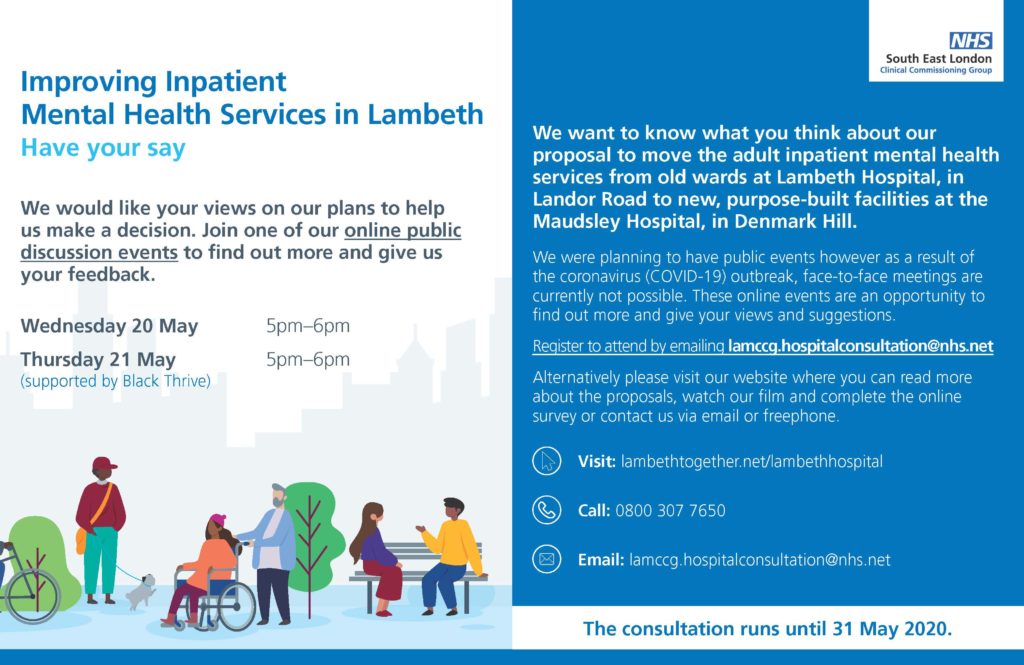 We want to know what you think about our proposal to move adult inpatient mental health services from Lambeth Hospital, in Landor Road, Lambeth to new, high-quality facilities on the Maudsley Hospital site, in Denmark Hill, in Southwark.
As part of the LWNA, we have been working hard to improve community and home-based services, and provide more care closer to home. Our vision is to shift the focus from long-term and sometimes inappropriate stays in hospital to community and home-based services that are joined up, easier to access and more cost effective. When some people, due to the severity of their mental health needs, require specialist support in hospital, we want them to be treated in safe, modern and therapeutic accommodation.
Lambeth Hospital
The wards at Lambeth Hospital no longer meet acknowledged modern standards and are not fit for purpose.  The way some wards are arranged does not support the privacy, dignity and safety that our service users should expect. This impacts on people's recovery and the experience of the care they receive.
For our staff it makes their role more difficult. This impacts on team morale, recruitment and retention. These issues have been raised by service users, families, and by staff as well as by regulators such as the Care Quality Commission (CQC), whose role is to monitor the quality of services.
NHS Lambeth CCG and the Trust recognise the urgent need to improve inpatient accommodation for mental health services in Lambeth.
Maudsley Hospital
Our preferred option is to move the inpatient services for adults from Lambeth Hospital to the Maudsley Hospital site in Denmark Hill. This would not change the number of beds available for service users.
A new, purpose-built building, on the Maudsley Hospital site, would provide a modern, safe and therapeutic environment for service users at accepted modern standards. It would have individual en-suite bathrooms for all bedrooms, direct access to large outdoor balconies and fresh air, good views across the wards for staff, family rooms and a multi-faith space.
Watch our consultation film below, in which one of the clinical directors for Lambeth, Dr Robert Harland, explains the proposals in detail and provides a virtual tour of the proposed building.
The only alternative option is to continue to use the existing wards and buildings on the Lambeth Hospital site, with their existing problems.
An option to develop a new high-quality facility on the Lambeth Hospital site was also looked at. However, this would have meant relocating services during construction, causing major disruption for many years and would have needed additional funding of around £30m. This was unrealistic and financially unsustainable, and therefore not taken forward to consultation.
You can download a full consultation document or a summary consultation document, to read before responding to our survey.
Our consultation documents are also available in an Easy Read format and in different languages – in Spanish, Portuguese and Somali (to follow).
You can download a copy of our survey here or complete the survey online:
www.surveymonkey.co.uk/r/lambethhospitalconsultation
Consultation events
We are holding as online public discussion event to give people the opportunity to find out more about the proposals and give their feedback.
If you would like to attend, please register your interest by emailing lamccg.hospitalconsultation@nhs.net
We were planning to have public events in Lambeth and Southwark as part of our consultation. However, as a result of the coronavirus (COVID-19) outbreak face-to-face engagement is currently not possible. During this period, please get in touch if you, or someone you know, would welcome a conversation or more information about these proposals. Please use the contact details provided and we will make all necessary arrangements.
Background information
Detailed information on how the proposals were developed is available in the pre-consultation business case (PCBC).
You are also welcome to read a number of our other background documents.
Tell us what you think
Our consultation runs from 4 March 2020 to 31 May 2020
We would like to hear what benefits you think there are and what concerns you have. Do you have any other solutions or alternative options that you think we should consider? We are also keen to understand your views on whether the proposal might affect some individuals and groups of people more than others.
We are asking for your views before we make a decision.
For more information and to share your views
This must be written exactly as it is here, including the capital letters. You don't need a stamp.
Data Protection Statement
We will protect the information we receive and store it securely in line with data-protection rules.
Your information may be shared with NEL Commissioning Support Unit, who have been commissioned to collate and independently analyse the feedback we receive, and London Communications Agency who are supporting us with this consultation. All data will be held securely and the information you have provided will be treated as confidential and only used for the purposes of this consultation.
Consultation documents
Questionnaire/survey
Other background documents