Top London doctors call for parents and carers to get their children vaccinated
Senior health experts and specialist children's doctors from south east London have called for all parents in the boroughs of Lambeth, Southwark, Lewisham, Bexley, Bromley and Greenwich to get their children vaccinated against polio, flu and MMR. This call comes after the discovery of the polio virus in London sewers and with predictions of a severe flu season this winter.
Increased health risks to London children from polio
Senior London public health specialists and consultant paediatricians from Evelina London Children's Hospital, part of Guy's and St Thomas' NHS Foundation Trust, are concerned about the increased health risks to children aged one – nine years old locally.
Free online information sessions on childhood vaccinations for parents and carers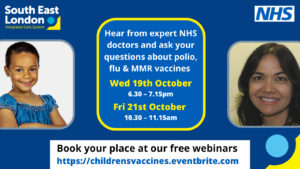 To help parents get the latest information and advice on childhood vaccinations, NHS South East London is hosting two free online webinars for parents and carers this October.
Doctors and health experts will discuss these childhood diseases and the vaccinations available, including where and how to get them. They will also take individual questions from parents and carers.
The webinars are on
Wednesday 19 October (6.30 – 7.15pm) and
Friday 21 October (10.30 – 11.15am)
Booking: Parents/carers can book online for either webinar at: childrensvaccines.eventbrite.com
Dr Toby Garrood, Joint Medical Director at South East London Integrated Care System and a consultant at Guy's and St Thomas' NHS Foundation Trust will host the event.
Dr Garrood said: "We know that parents and carers have a lot of questions about vaccines. Understandably, they want to ensure they are making the best, most informed decisions about their children's health and wellbeing.
"Our free webinars are a great opportunity for parents in south east London to hear from and ask our panel of experts questions about the most common childhood diseases, and the vaccinations that are currently available.
"We understand that polio is a concern for parents in London right now, and at the webinars we'll also be discussing the current polio situation and what action the NHS is taking to address the recent findings."
Speakers at the webinars include:
Dr Ronny Cheung, Consultant Paediatrician, Joint Head of Service, General Paediatrics, Evelina London Children's Hospital, Guy's and St Thomas' NHS Foundation Trust
Dr Jonathan Cohen, Consultant in Paediatric Immunology & Infectious Diseases, Evelina London Children's Hospital, Guy's and St Thomas' NHS Foundation Trust
Sangeeta Leahy, Director of Public Health, London Borough of Southwark
Dr Angela Bhan, Director for Bromley – south east London Integrated Care System, specialist public health doctor
Lower vaccination rates for children in Lambeth
Ruth Hutt, Director of Public Health for Lambeth, said:
"Vaccination rates in Lambeth are lower than they should be. Most people take up their vaccination offers but we need to ensure that no one is left out.
We want to avoid a further wave of illness in families that are already struggling with so many different issues, from the cost of living crisis to the ongoing impacts of the coronavirus pandemic.
Vaccination is the best way to protect children. I'd encourage parents to attend this online event and put their questions to the experts"
Sign up for an information event and find out more online
Sign up for a webinar on 19 or 21 October