The latest from the Lambeth Neighbourhood and Wellbeing Alliance
The Lambeth Neighbourhood and Wellbeing Delivery Alliance is a partnership of local NHS organisations, community organisations, GPs, and Lambeth Council.
Through working together better, we want to improve peoples health, keep people well, promote wellbeing and reduce the barriers to access services and support that some people experience. Together we want people to have the best health outcomes possible in Lambeth and make sure services are seamless, coordinated and person centred for those that really need it.
An important part of our work is focussing on services that support people in local communities. We want to bring together health and care in the community (for example, GP surgeries, district nursing and homecare), with community groups and organisations and other community assets (all the things in a local area that improve quality of life). By doing this, we can focus on what matters to local people and their local health and care staff and services, and what will work in their local community.
We are getting started in 2020, the first phase of this work will focus on supporting people with that live with 3 or more long term health conditions (such as diabetes, chronic pain or COPD), people who are frail or becoming frail, and people living in their last years of life.
Working in neighbourhoods in Lambeth
To do this, the Alliance will work in small local areas or neighbourhoods in Lambeth to agree what improvements are important to local people, services and community groups, within the first phase.
Improvements will be developed and led by local people, services, frontline staff and the voluntary and community sector working together to make change happen through 'test and learns'. This means we make small but important improvements, learn as we go, and refine and improve things, step by step. We do this together and we learn together.
The Alliance will start with three neighbourhood areas, which include some of the most deprived areas in Lambeth, as shown below: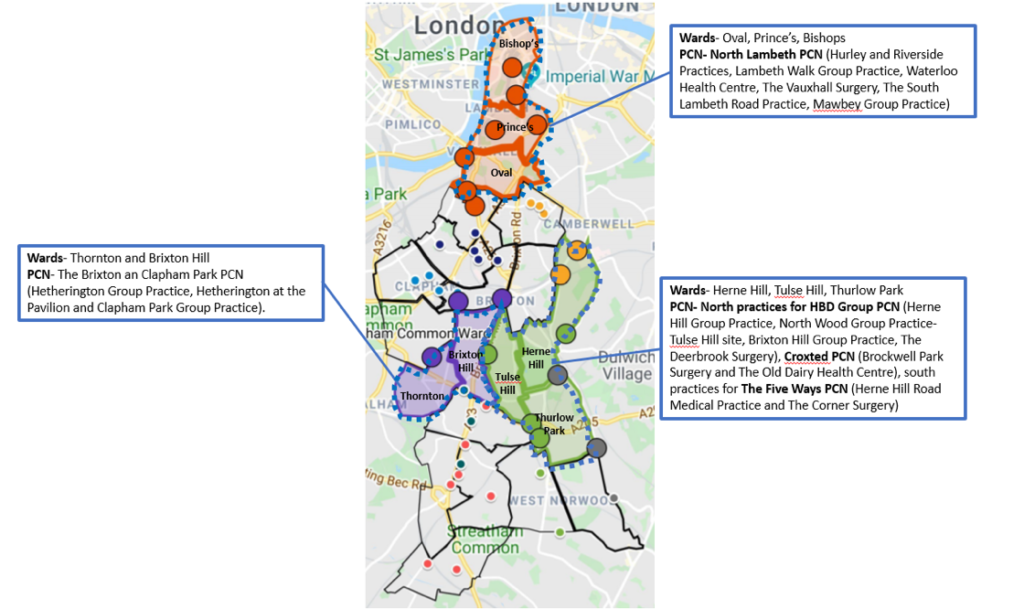 We are starting with these areas first as the need is high. The areas our some of our most deprived, the demand and pressure for services in high,  we want swift action to support needs of disadvantaged groups, and there are good opportunities to build on the strength of existing relationships and leadership across health and social services and community and voluntary groups. We hope to move swiftly into other areas.
We will keep you up to date as this work progresses. See lambethtogether.net