Lambeth Together joins South East London Integrated Care System as one of six local care partnerships from 1 July
From 1 July, Lambeth Together formally becomes one of six local care partnerships of south east London's new integrated care system. These new arrangements, brought in with the Health and Care Act 2022, see health and care organisations working together on a statutory footing with the voluntary sector and local communities to plan and deliver joined up services and to improve the health of people who live and work in their area.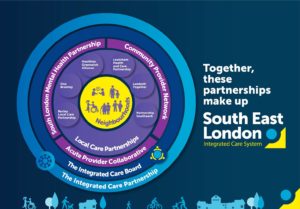 Continuity as well as opportunity for Lambeth
Well developed partnership arrangements and effective working relationships have been in place in the borough for some time. And since January, the Lambeth Together Board has been operating in shadow format, under the leadership of Co-Chairs, Cllr Jim Dickson and Dr Di Atiken, and Executive Place Lead for Lambeth, Andrew Eyres.
Andrew Eyres said:
"We have built a strong partnership in Lambeth. And we've made a pledge to one another that we will work together to improve health and wellbeing and reduce inequalities for people in Lambeth.
We want Lambeth to be a place where health and wellbeing are improving for all, and improving fastest for those with the poorest health and wellbeing; where people are able to reach their full potential and feel good about themselves; where everyone feels valued and has choices about their health and wellbeing; and where people are safe from harm".
Co-Chair, Lambeth GP Dr Di Aitken, said:
"Working together, we will plan services and coordinate care across our borough to remove unhelpful divides between hospital and community-based services, physical and mental health, and health and social care.
Making services more joined up, easier to access and more consistent will help people get the right care and support in the right setting, as early as possible and help our population achieve better health in the decades to come".
Co-Chair, Cllr Jim Dickson, said:
"I am proud to be on the leadership team of such a forward thinking and effective partnership. We know that together we are stronger and that together we can make best use of our resources, give our staff more satisfying careers and transform the health of our borough".
Recruitment of Patient and Public Voice Members
Lambeth Together is committed to involving people at every level of its work and is currently seeking two new Patient and Public Voice Members. Lambeth residents and users of local health and care services with active local networks are welcome to express an interest in these voluntary roles by 24 July. Read more.
More information
Find out more about Lambeth Together priorities
Find out who's on the leadership team of Lambeth Together 
Find out about the Public Forum and Board meetings
Find out more about South East London Integrated Care System