Neighbourhood and Wellbeing Delivery Alliance: Progress Report 2021
We're very pleased to be publishing our first annual progress report. It summarises the latest work and priorities of the Neighbourhood & Wellbeing Delivery Alliance with stories of how this is positively impacting the lives of people in Lambeth.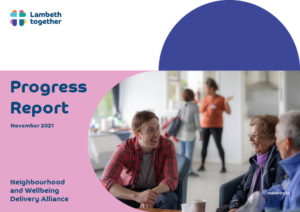 We're working together to improve health and wellbeing in our communities, focusing on people who are older, frail or vulnerable.
Read our Progress Report here.
NB: If you are someone interested in receiving support in dealing with your pain, please click here to find out more information on pain wellbeing sessions available in Lambeth led by RTW Plus. 
We also presented an update at the  Lambeth Together Strategic Board meeting on Wednesday 24 November 2021 where we provided information on what we plan to do for Lambeth residents over the next 12 months.
Find out more about this and other agenda items at www.lambethtogether.net/SB-papers.