Have your say at Healthwatch Lambeth's Annual Meeting
Members of the public are invited to attend Healthwatch Lambeth's annual meeting on Wednesday 20 November from 3pm-7pm.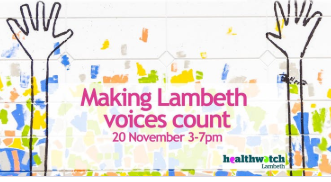 Healthwatch Lambeth are an independent organisation who work to ensure local people's voices count when it comes to shaping and improving local health and care services. As health and social care services are being changed and restructured over the next years, Healthwatch Lambeth will work to ensure local people's views are represented and heard by service providers and decision makers. Properly involving Lambeth people now, will help ensure that these services will meet everyone's needs in the future.
At their annual meeting this year, Healthwatch Lambeth invite people to join in to talk about public involvement in Lambeth Together. They are inviting local residents, community groups, voluntary sector and people who work in health and social care in Lambeth, to come and share successes, issues and suggestions for the future for public participation in Lambeth.