Getting mental health and wellbeing support in Lambeth
COVID-19 has made this past year hard for everyone. It's no surprise that people across the country have reported their mental health and wellbeing has worsened during the pandemic. For the Virtual Country Show, Health Watch and the Living Well Network Alliance are doing a special event to make sure Lambeth residents aged 18 to 65-years-old understand how to access the range of mental health and wellbeing support available.
This event will take place at midday on Saturday 17 July. They welcome anyone who is personally experiencing mental illness or distress, as well as their friends or loved ones, and organisations who feel they could benefit from attending. Register to join the live Zoom event here.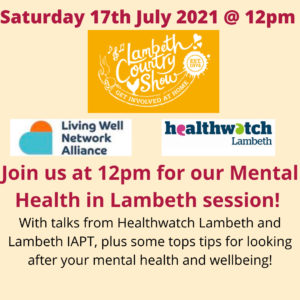 The session will cover:
Information about the different community mental health services for people aged 18 to 65
How to get help and what to expect
What complimentary, practical help and activities are available in the community to improve your wellbeing
Tips on how to look after your mental health and wellbeing, for example how to improve your sleep
An opportunity to ask questions about mental health support in Lambeth
About the Lambeth Together partners organising the event:
Healthwatch Lambeth.
Healthwatch Lambeth are the independent champion for people who use health and social care services. They're here to make sure that those running services put people at the heart of care.
Their purpose is to understand the needs, experiences and concerns of people who use health and social care services, and to speak out on their behalf.
They focus on ensuring that Lambeth people's worries and concerns about current services are addressed. They work to get services right for everyone in Lambeth.
They also offer information and signposting support, if you have questions around health and social care.
Improving Access to Psychological Therapies (IAPT) Service Lambeth and Croydon.
Improving Access to Psychological Therapies (IAPT) can help with: Anxiety, Depression & Panic the services have been developed to provide talking therapies for anyone who is:
Feeling down, low or depressed
Feeling stressed or anxious
Finding it hard to control worrying
Anxious in social situations
Experiencing low mood or anxiety in pregnancy or in the first year after birth
Experiencing panic attacks
Experiencing flashbacks of traumatic events
Caught up in excessive washing or checking
Experiencing anxiety, stress and low mood linked to a long-term medical condition.
They try to ensure that the type of help offered to you best matches your current needs. The service offers both Low Intensity and High-Intensity courses of treatment which will be explained in more detail at the event.
Lambeth Living Well Centres.
Living Well Centres offer short and longer term support from our teams of clinicians, social workers people with lived experience and support workers. They can also introduce you to other services and community groups who can support you.