Get ready for Stoptober 2023!
Stoptober is back for 2023, with a new national campaign to encourage and support smokers to make a quit attempt. There's a range of support available in Lambeth for smokers seeking to quit.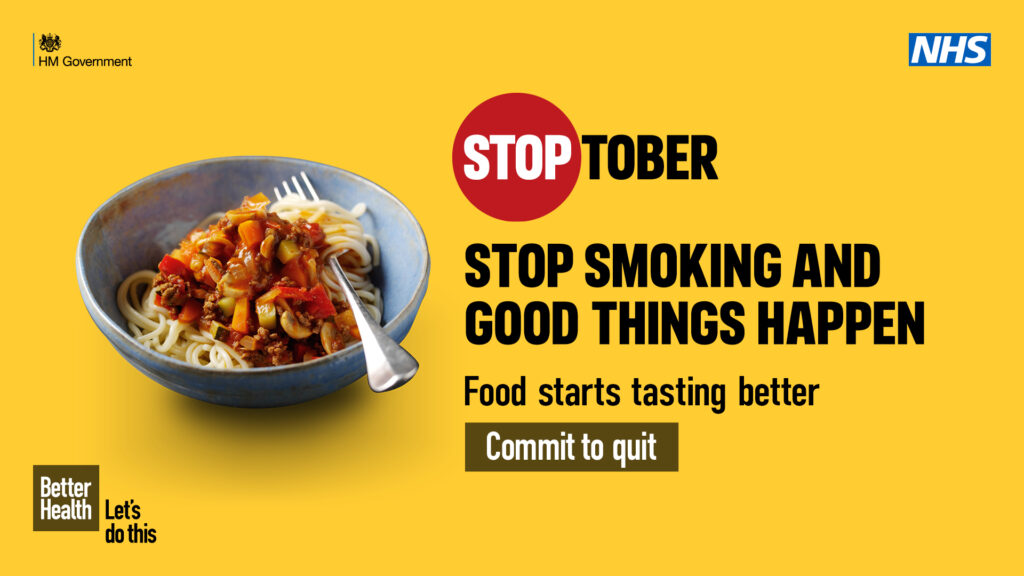 Since its inception in 2012, Stoptober has successfully helped 2.5 million smokers to make a quit attempt and has become a well-recognised annual event in the public health calendar.
The theme for this year's campaign is 'When you stop smoking, good things start to happen'. Within days or weeks of quitting your senses of taste and smell improve, you start to breathe more easily and have more energy. And, in time, your longer-term risks of cancer, lung disease, heart disease and stroke will be significantly reduced. Read more about the benefits of quitting.
Bimpe Oki, Consultant in Public Health in Lambeth, said: "Lambeth Council, together with local voluntary partners, GPs, community pharmacies and hospital trusts, are working in partnership to support more people to quit smoking.
"We know that there are more smokers in areas of Lambeth with the highest deprivation, and those who suffer the most from smoking related poor health, also tend to be disadvantaged by their living and working conditions. We want to address the health inequalities we see around smoking in the borough and help people succeed in kicking the habit."
Oscar Moreno, Tobacco Dependence Treatment Manager from Guy's and St Thomas' Hospital said:"Stoptober is a great opportunity to join the challenge and quit smoking for good. With specialist support, smokers are three times more likely to quit smoking. We encourage Lambeth residents who want to join Stoptober to contact us, at the Lambeth Stop Smoking Service, and have a chat about it."
Stoptober 2023 is also focusing on promoting vaping as a tool that smokers should consider, to help them quit. The national campaign will seek to debunk misconceptions that vaping is equally or more harmful than smoking tobacco. For smokers looking to quit, vaping can be an effective aid. Find out more about vaping.
Help to quit smoking in Lambeth
Smokers in Lambeth looking to quit during Stoptober can access support from one of our local services.
The Specialist Stop Smoking Service
You can access free one-to-one behavioural support as well as supply of Nicotine Replacement Therapy (NRT) or a vaping kit from the Lambeth Specialist Stop Smoking Service, delivered by Guy's and St Thomas NHS Foundation Trust.
The Specialist Service is available to:
People diagnosed with one or more long term conditions, including mental illness
Pregnant smokers and their partners
Parents with children aged five or under
Long term smokers
To sign up, phone: 0800 856 3409 or 020 3049 5791 or email: gst-tr.stopsmokinglambeth@nhs.net
Read more about specialist stop smoking services in Lambeth.
The Community Pharmacy service
Any smoker looking to quit can access the stop smoking service in one of Lambeth's participating local community pharmacies:
Osbon Pharmacy, 143 Lambeth Walk, London SE11 6EE
Harfleur Chemist, 219-221 Clapham Rd, London SW9 9BE
Kingshield Pharmacy, 387 Brixton Rd, London SW9 7DE
Philips Pharmacy, 70A Clarence Ave, London SW4 8JP
New Park Pharmacy, 85 New Park Rd, Brixton Hill, London SW2 4ES
Boss Pharmacy, 85 Bedford Rd, London SW4 7RD
Day Lewis Pharmacy Streatham, 9a Gracefield Gardens, London SW16 2SZ
LGBTQ+ Creative Health Smoking Cessation Group.
It is estimated that Lambeth has one of the highest LGBTQ+ populations in the UK. The Lambeth 2022 State of the Borough report estimates at least 10% of the Lambeth  population identifies as LGBTQ+, compared to 6% of people in London and 4% in England. Data also tells us that smoking rates are higher in the LGBTQ+ community.
This is a collaboration led by Lambeth Links LGBTQ+ Community Forum in partnership with Art 4 Space and the Lambeth Stop Smoking team offering a free 8-week smoking cessation group for LGTBQ+ smokers.
You can sign up here and for any questions, please contact Julie – jewels@art4space.co.uk
Visit the Health and Wellbeing Bus
For Stoptober the Health and Wellbeing Bus will have a specialised stop smoking adviser on board and specific dates. To find out when and where they will be view the bus time table.
Self-help resources
There are also lots of self-help resources available to smokers looking to quit:
Why is this important to Lambeth Together?
Lambeth Together's Staying Healthy Programme brings together Lambeth partners to support people to stay well and prevent them from developing serious and long-term health conditions and preventable diseases. Read more about the Staying Healthy Programme.