Celebrating World Mental Health Day in Lambeth
Every year, on 10 October we celebrate World Mental Health Day. This is a chance to talk about mental health, how we can look after it, and how important it is to talk about things and get help if we're struggling.
It is also a chance to think about how we can look after one another and support people in our lives who struggle with their mental health to get the help they need.
This year, many things have impacted on our mental health. These include the continuing effects of the Covid pandemic and more recently, the rising cost of living. Lambeth Together partner organisations are sharing useful self-care tips, together with information about events and activities taking place locally to support people to stay well and to get or give help when this is needed.
The Proper Blokes Club – Walk & Talk for Men's Mental Health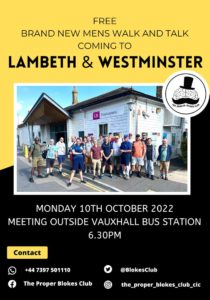 The Proper Blokes Club is a community project to support men's mental health. They are launching a new 'walk and talk' route in Lambeth, starting at Vauxhall Bus Station.
Monday 10 October
6.30pm
Vauxhall Bus Station
No need to register, anyone interested can join on the day
More info about the walk: +44 7397 501110
Find out more about The Proper Blokes Club
Free workshop: mental health awareness and how to help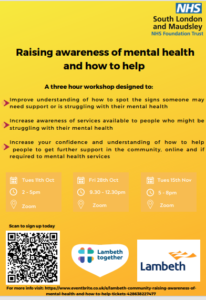 A three hour online workshop for anyone who is interested in improving their knowledge of how to recognise the signs of mental distress in others. Participants  will become  more confident in approaching the topic with people and directing them to appropriate support.
This workshop is run in collaboration with South London and the Maudsley NHS Foundation Trust.
Tues 11 October 2-5pm
Fri 28 October 9.30am-12.30pm
Tues 15 November 5-8pm
Find out more and sign up for a workshop
'Ease stress and save money' event with Healthwatch Lambeth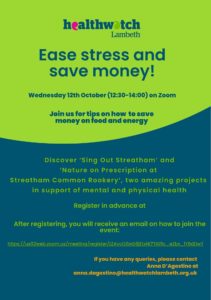 Healthwatch Lambeth will be sharing tips to save money on food and energy at an online event (held on Zoom).
Plus learn about 'Sing Out Streatham' and 'Nature on Prescription at Streatham Common Rookery' projects to support mental and physical health
Wednesday 12 October
12:30-2pm
Register in advance for 'ease stress and save money online event
For more information, email Ana.dagostino@healthwatchlambeth.org.uk
Kickstart a conversation about mental health – NHS South East London 'Free Your Mind' campaign resources
Talking about mental health can feel scary, and the best way to do this will be different for everyone. If you're suffering from mental distress or if you know someone close to you is suffering, having a few key phrases at the ready can help start the conversation: for example, 'Things aren't easy for me at the moment and I need a helping hand' or 'Do you want to tell me how you're feeling?'
Find more tips on starting a conversation about mental health
The Free Your Mind website also includes self-help guides, lists of organisations that can help and a new interactive Wellbeing Map with local events and activities.
'Love Your Mind Lambeth' resources
There is so much information out there on mental health that sometimes it can feel overwhelming to know where to go to get the right information or support. So Lambeth Council has put together a guide to help find support available online and locally. This guide includes self-care tips, information on mental health support and services and wider information on dealing with some of the pressures that can lead to worry, stress and mental health challenges.
The guide is available on Lambeth Council's website: https://www.lambeth.gov.uk/mental-wellbeing
We include shortcuts to each section below.
Get tips on small changes that can help you feel better
Find information on adult mental health support, including clinical services and non-clinical support
Find information on children and young people's mental health support and services
Find information on dealing with the menopause
Find information financial wellbeing and support available to help deal with the cost of living crisis
Find information on mental health crisis support 
Lambeth Living Well Network Alliance
The Lambeth Living Well Network Alliance supports people in Lambeth who are experiencing mental illness or distress.
Find out more about how to get help in a crisis, get a referral or refer yourself to mental health support and services, and how to access talking therapies on their 'Get help' pages.