Boosting Lambeth's protection from Omicron – extra COVID-19 vaccination clinics running across Lambeth
Additional vaccination clinics are running across Lambeth and South East London this week as part of the plan to offer the Covid-19 booster jab to every adult in England by the end of December.
From Monday this week people aged 30 and over, along with those aged 16+ in high-risk groups, carers of vulnerable people and health and care staff, can book in to have their life-saving Covid-19 booster jab three months after their second dose using the national booking system, rather than waiting six months as previously.
From tomorrow (December 15) everyone aged 18 plus will be able to book theirs three months after their second jab.
This expansion of the vaccination programme is in response to the rapidly spreading Omicron variant and is based on evidence that the booster jab prevents around 75 per cent of people getting Covid symptoms.
In Lambeth and across south east London, additional appointments are now available and a number of vaccination sites are also running 'boosted' walk-in clinics. Lambeth Civic Centre is opening its doors daily from Monday 13 to Sunday 19 December and Montgomery Hall and Streatham Place Surgery have additional hours scheduled for both booked and walk-in vaccinations. Vaccinations also continue to be offered at Guy's, St Thomas' and King's College Hospitals.
This is in addition to a number of Lambeth community pharmacies extending their operating hours and Lambeth's Health and Wellbeing Bus offering both flu and Covid-19 vaccinations Monday to Friday. Full details, including opening hours, are available on NHS South East London CCG's website and on the national NHS 'Grab-A-Jab' website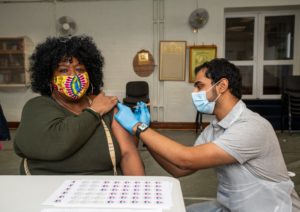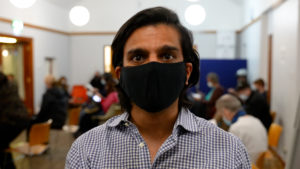 Lambeth GP Dr Jayesh Patel (pictured) administered the first Covid-19 vaccination in London outside of a hospital setting at the Hurley Clinic in Kennington last December. One year on, as clinical lead at the Montgomery Hall vaccination centre, which is seeing up to 2,000 people per day, he's proud of the progress made on vaccinations, but knows there's much more to do.
He said: "It's been great to see a surge of people coming forward for their boosters. We know that, like some other vaccines, levels of protection from your initial round of COVID-19 vaccination may begin to wane over time. A booster dose will help extend the protection you gained from your first 2 doses and give you longer term protection."
Ruth Hutt, Lambeth's Director of Public Health, has been at the forefront of the borough's response to the coronavirus pandemic and strongly encourages residents to get their vaccine before mixing with others who might be more vulnerable this festive season.
She said: "As we continue to work together to tackle the challenges that we face, it has never been more important to come forward for your vaccination, whether that is a first, second or booster dose. The Covid-19 vaccine will help to reduce the risk of hospital admission due to COVID-19 infection this winter, and is our best protection against all Covid variants. Please help us to help you to keep Lambeth safe."
The NHS is prioritising bookings for boosters and is urging people to book a slot to guarantee their vital jab. The best way to ensure you get a jab is to make an appointment through the national booking service. The service is operating a queuing system to manage high demand, so if you can't get your slot right away, please either stay in the queue or check back later.
Further information: NHS South East London CCG's website
Book your COVID-19 vaccine: www.nhs.uk
Find a walk-in COVID-19 vaccination site near you: www.nhs.uk