Lambeth's Portuguese communities encouraged to plan ahead this St Martin's Day
As St Martin's Day celebrations approach on 9 November 2019, Compassion in Dying is encouraging Portuguese-speakers in Lambeth to use the opportunity to think about what's important to them and to plan for their future healthcare and treatment, so that what matters to each person is known about when health decisions need to be made.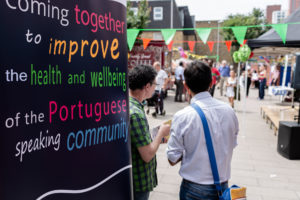 This follows the conclusion of a Lottery-funded project that supported Lambeth's Portuguese-speaking communities with advance care planning – a process that enables people to think about and record how they would like to be treated and cared for in future, in case a time comes when they are no longer able to make or communicate their own decisions.
Through the project, which was run by Compassion in Dying, the Stockwell Partnership and other local partners, bilingual materials were developed, including an Advance Statement – a document which allows people to document what is most important to them in relation to their future care and treatment. This can include where they'd like to be cared for, their spiritual or religious beliefs, and everyday preferences like diet and music.
Verena Hewat, Outreach and Training Lead at Compassion in Dying said: "St Martin's Day is a wonderful celebration of Portuguese culture where families, friends and neighbours come together. It's an ideal time to think about what is most important to you and how this might affect the care and treatment you do or don't want to receive in future.
"Through our project last year many participants told us how making an Advance Statement allowed them to convey how important faith, food and culture was to them. Advance care planning enabled them to record their wish to remain involved in these aspects of their life in the future and say who they would like to be involved in decisions about their care."
Compassion in Dying's findings from the project are detailed in their new report which is published this week, 'Faith, Food and Family: Exploring advance care planning with Portuguese-speaking communities'.
Verena added: "No one plans to become unwell, but putting plans in place now means you can rest assured that if you do become unable to say what you want, those around you will know your wishes. If any local Portuguese-speakers would like help to plan ahead, specialist support is available. Bilingual information on advance care planning will be on offer at the Lambeth Portuguese Wellbeing Partnership's St Martin's Day event on Saturday 9th November in the Stockwell Community Centre."
Further one-to-one support can be accessed through the Stockwell Partnership, which has Portuguese-speaking staff. They can be contacted at 020 7793 7730 or admin@stockwell.org.uk.
Following the success of the project with Portuguese-speaking communities, the National Lottery Community Fund has awarded funding to the Lambeth Advance Care Planning Consortium, led by Compassion in Dying and Healthwatch Lambeth. The project supports anyone living in Lambeth to plan for their future treatment and care, including communities known to have poorer health experiences, such as carers, people with multiple long-term health conditions, people with learning disabilities, those living with dementia and Lambeth's Portuguese-speaking communities. The Consortium's work will include awareness-raising events across Lambeth and one-to-one support to enable local people to document their wishes, ensuring that what matters to each person is known about when health decisions need to be made.