Lambeth's first Green Social Prescribing Fair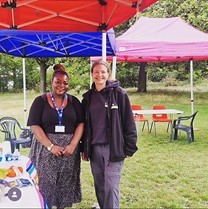 General practice staff from Streatham Primary Care Network and Streatham AT Medics collaborated with Thriving Streatham to host Lambeth's first 'Green Social Prescribing Fair' on Streatham Common this summer. The event connected patients to services that can offer emotional and practical support and enabled people to explore how green space can improve mental health wellbeing. As an open-access community-based event, it set out to attract people who might not otherwise engage with workshops and 'health fairs' in healthcare settings, and so played a role in addressing health inequalities
Health and Wellbeing support available at the event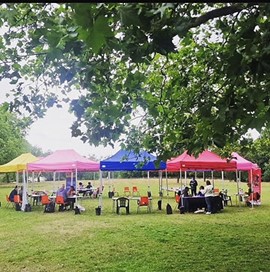 The Lambeth Health and Wellbeing bus was present to offer wellbeing information, advice and support and general practice staff from Streatham Primary Care Network offered walk in blood pressure checks.
King's College Hospital Breast Screening services team joined the event to promote the importance of screening to prevent cancer or detect it at an early stage when it's most treatable.
There were stalls and representatives from other Lambeth services supporting health and wellbeing including Citizens' Advice, St Margaret's Community Hub, South London Cares, the Policy Centre for African Peoples. Healthwatch Lambeth, and Elderly and Respite Care service Visiting Angels.
Social Prescribing is a priority in Lambeth
Dr Justin Hayes, Lambeth GP and Lambeth Together's Clinical and Care Professional Lead for Personalisation including Social Prescribing:
"Being outside in the green space has been shown to have a positive impact on wellbeing, so our social prescribers are proud to be advocating the use of this space. As part of five year Health and Care Plan, we are prioritising social prescribing, as it connects people to activities, groups, and services in their community that can help meet their practical, social and emotional needs that we know affect their health and wellbeing."
More information about social prescribing
Social Prescribing is included in the NHS Long Term Plan as one way of moving away from a "one size fits all" approach to healthcare and towards more personalised care. Find out more about social prescribing in South East London.
To learn more about Lambeth's social prescribing offer for young people watch Lambeth young people's health hub film highlighting the work of social prescribing in the borough
To find out more about the social prescribing link workers in some primary care practices in Lambeth and south east London, visit #YourPrimaryCare, where you can watch the videos of Judith and Michaela who are social prescribing link workers in Lambeth GP practices.
Read more about our health and wellbeing commitments in Lambeth Together's 'Our health, Our Lambeth' Health and Care Plan 2023-2028.