Help us to research hypertension and heart health in Lambeth this World Hypertension Day 2023
Lambeth Together's Neighbourhood and Wellbeing Delivery Alliance (NWDA) is taking the opportunity of World Hypertension Day (May 17 2023) to highlight the importance of monitoring blood pressure and bringing awareness to the 1 billion people living with high blood pressure worldwide.
Data shows that just over 34% of Lambeth adults have higher than average blood pressure (also known as hypertension), and these are the communities are most likely to have worrying or potentially dangerous blood pressure problems.
Hypertension is a serious medical condition and can increase the risk of heart, brain, kidney and other diseases. It is a major cause of premature death worldwide.
Lambeth Together wants to work with people of Black African and Black Caribbean heritage to help you prevent and take control of high blood pressure – to carry out more blood pressure checks and find out more about your health needs.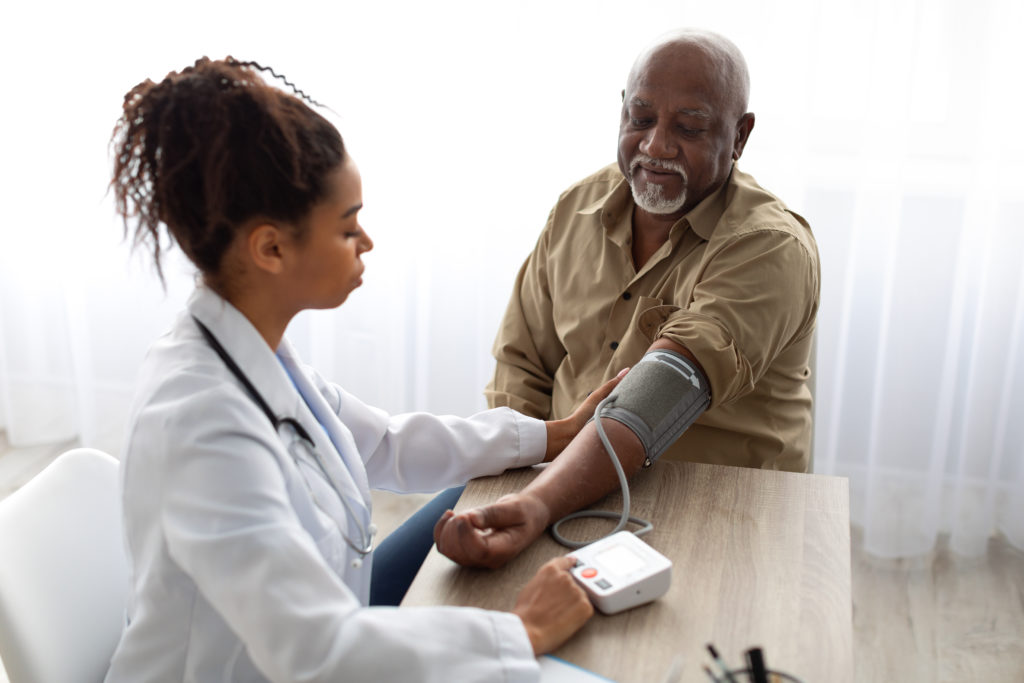 Neighbourhood and Wellbeing Delivery Alliance's hypertension project
Lambeth Together's NWDA will be running interviews and focus (discussion) groups to discover more about the experiences of Black and multi-ethnic people. We'd like to hear more if in the last 12 months you have:
had a stroke or heart attack
been diagnosed with hypertension (high blood pressure), or
been diagnosed with chronic kidney disease
had a cardiovascular check up.
This information will help to shape any necessary changes to the patient pathway, for example making sure everyone has access to blood pressure checks. It will also tell us more about what support you need to improve your blood pressure control. We want to ensure that the support is culturally appropriate for all communities.
Find out more about this project
Be part of the solution – take part in Lambeth research
If you're interested in helping Lambeth & the NHS with researching high blood pressure, contact Lambeth Together's Neighbourhood and Wellbeing Alliance
Word from  Lambeth Council's Cabinet
Cllr Marcia Cameron, Lambeth Council Cabinet Member for Healthier Communities, said:
"We're really keen to engage with our Black African, Black Caribbean and multi-ethnic communities to understand how Lambeth health services can support them better to prevent and take control of high blood pressure.

"We believe that by helping people take control of their blood pressure in Lambeth we could prevent as many as 65 strokes, stop 48 people from developing heart failure, keep 61 people safe from heart disease and save 196 lives."
Blood Pressure Testing
To know more about when, where, how and why to get your blood pressure tested:
To find out how to monitor your blood pressure at home:
What else can you do?
Say "Yes!" to your invite for an NHS Health Check! Invitations are sent to people aged 40 to 74. The NHS Health Check can help spot early signs of high blood pressure, kidney disease, heart disease, type 2 diabetes or dementia.
Find out more about NHS Health Checks