Raising awareness of the true cost of drink during Alcohol Awareness Week
The NHS and partners across south east London are joining over 5,000 community groups across the UK to raise awareness of the true cost of alcohol during this year's Alcohol Awareness Week, which runs from 3rd to 9th July.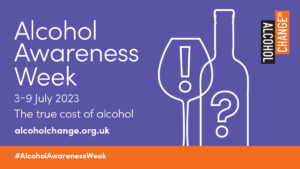 South East London Integrated Care System (or ICS) is encouraging people to get involved in the week by talking about how much alcohol costs us in the form of health problems, financial worries, relationship breakdown and family difficulties.
During the week, Alcohol Change UK will be sharing tips on what to do if you think you're drinking too much alcohol, how to have a conversation with a friend or family member about their drinking, and how to get support if you're affected by a loved one's drinking.
Dr Jonty Heaversedge, Joint Medical Director with South East London ICS, said:
"The average UK adult spends a huge amount of money on alcohol in a lifetime. In these tough times this may contribute to the financial stress many people are experiencing and, while it can bring us short-term pleasure, it is easy to 'overdo it', putting our health, relationships and safety at risk.
"This can damage our own physical and mental health and the wellbeing of those around us.
"Drinking regularly or heavily puts us at greater risk of heart disease, liver disease, stroke, increased blood pressure and cancer – particularly throat cancer and breast cancer. It can cause tensions and disagreements with those around us and put a strain on our finances too.
"By taking control of our drinking, we can save money, improve our health, have more energy, improve our memory, have better sleep, reduce anxiety, improve our mood, and have better relationships."
Find out more about Alcohol Awareness Week 
Alcohol Change UK is a charity that works towards a society that is free from the harm caused by alcohol. Find out more on their website
Support from Lambeth health and care organisations
Alcohol intake is one of the 'Vital 5' factors that have a major impact on health (alongside blood pressure, obesity, mental health and smoking status).
'Our Health, Our Lambeth' is Lambeth Together's five year health and care plan. It focuses on supporting people to lead healthy lives, improving prevention and early support, and making sure that people have access to and positive experiences of health and care services that they trust and that meet their needs.
As part of our plan, we aim to increase the number of people completing the DrinkCoach survey and monitor the proportion of people flagged as having a 'possible dependence'. We also aim to increase the number of people accessing and engaging in structured treatment programmes; and to ensure that all patients accessing inpatient support through alcohol support teams are supported into local services on discharge for follow-up support.