Dying Matters Week 10-16 May 2021
The Lambeth Advance Care Planning Consortium (ACP) offers free, one-to-one support to help people make an advance care plan.
Lambeth ACP Consortium have a number of virtual sessions organised for local residents who want to know more about advance care planning across 10-16 May 2021.
Please see below for further details:

Death Cafe (virtual) – Monday 10th May 12-2pm
A friendly, informal session to chat with others about any aspect of death you would like to explore. Please click here to register attendance.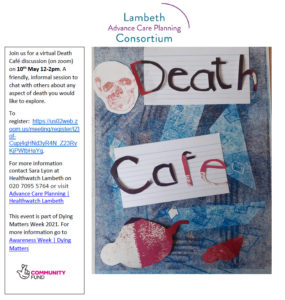 Lambeth Advance Care Planning Day – Thursday 13th May
These planning events will take you through how you can plan ahead for your future care and treatment or support those you work with to do so
Healthcare Professionals: 1-2pm – please click here to register
Lambeth residents: 5.30-7.30pm – please click here to register
Lasting Power of Attorney for Health and Welfare – Thursday 20th May (3.30-4.30pm)
A free session on what a Lasting Power of Attorney for Health and Welfare is and how you can set one up! All your questions answered.
Please click here to register