Dr Di Aitken commended at the Mind & Body Awards!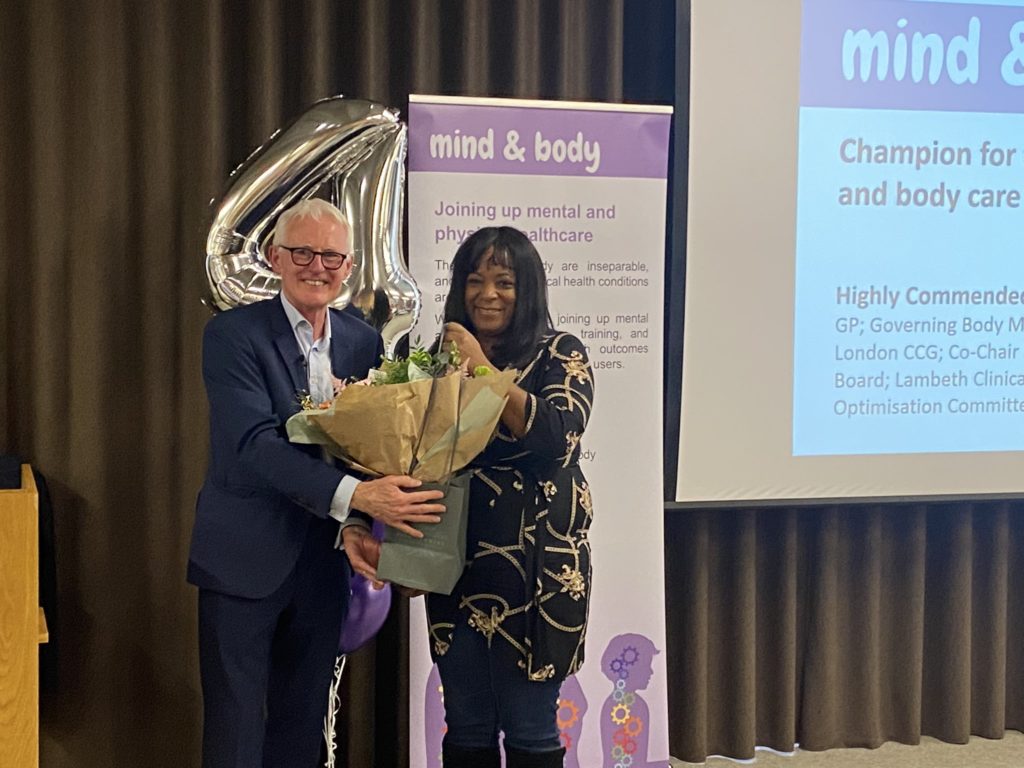 We're delighted to announce that Dr Di Aitken received runner up under the Care in the Community category at the King's Health Partners Mind & Body Awards on Wednesday. Dr Di was nominated for her "exemplar passion and advocacy in driving the support of mental health needs in physical health environments, whilst driving several key activities in Lambeth."
Di is a GP, has lived and worked in Lambeth for over 30 years and is the Designate Co-chair of the Lambeth Together Care Partnership Board. She's also the Clinical Lead for the Lambeth Neighbourhood & Wellbeing Delivery Alliance, where she has introduced a programme of work focused on working with patients, communities, NHS services and voluntary organisations to develop new models of care and support to people suffering from chronic pain. This work emphasises the importance of addressing pain holistically, as a mind and body matter, where psychological therapy can be offered alongside exercise programmes and medicines to manage ongoing pain.
In Lambeth, pain is the second most-common long term condition amongst residents, affecting 13% of the population. Black people are almost twice as likely to suffer from chronic pain as White or Asian people; females are 1.5 times more likely to suffer from chronic pain than males; and people living in deprived areas are more likely to suffer from chronic pain.
Andrew Eyres, Strategic Director, Integrated Health & Care, NHS SE London CCG Lambeth and Lambeth Council said: "I'm delighted that Dr Di Aitken has been recognised for her work to develop care that brings together both the physical and emotional needs of local people. Di's championing and leadership in this area, coupled with her work on reducing inequalities, is well known and valued in Lambeth and is well worthy of wider recognition. This builds upon her many years of experience as a Lambeth GP and resident and her deep understanding that simply dealing with the physical aspects of care and not taking psychological needs into account does not make sense in terms of offering personalised support and doesn't create the best opportunity to improve outcomes for patients."
Di also Co-chairs the Lambeth Together Equalities Group. Since the pandemic, and the disparities affecting Black and multi-ethnic communities communities, she has taken a lead for Lambeth Together to facilitate and collate stakeholders plans to address health inequalities for all residents with protected characteristics. Read more about Di.
The Care in the Community category was developed to celebrate people who are going above and beyond the call of duty to support mind and body care needs within their service. The award ceremony took place on Wednesday 16 March and also celebrated the launch of the new Mind & Body Quality Improvement Network – a world-first project that will define what 'best practice' mind and body care looks like. Find out more about the Mind & Body Quality Improvement Network here.