Carers' Rights Day 2022: Lambeth is supporting carers
Carers Rights Day is taking place across the UK on 24 November. It seeks to raise awareness of the needs of unpaid carers, and to help ensure carers are aware of their rights and know where to get help and support.
Carers event 24 November at Brixton library
Lambeth Carers' Hub have been running events during the week commencing 21 November 2022 to help carers learn more about their rights as carers and support available locally.
The final event in this series is for Carers Rights Day 2022 is between 6pm to 8pm on 24 November at Brixton Library. Come along to learn more about the support for carers and your rights as a carer. There will be a variety of organisations that support local carers including several Lambeth Together partners. With Age UK Lambeth, South London and Maudsley NHS trust, Centre 70, Hourglass and BlackThrive all in attendance.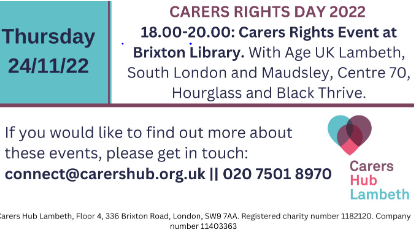 Support for unpaid carers in Lambeth
Carers often struggle alone, unsure of where to turn for help, missing out on crucial information. This Carers Rights Day, we want to get the word out about local support available for unpaid carers.
Carers' Hub Lambeth supports unpaid carers aged 5 plus, living in Lambeth or caring for someone who does. They offer a mix of 1 to 1 support, peer support and group activities, seeking to improve carers' wellbeing and reduce isolation. Activities and support include
monthly coffee mornings, offering carers a chance to meet fellow carers and take time out for themselves
a legal clinic with 30 minutes of free legal advice from a solicitor
weekly mindfulness sessions
support with advance care plans
a carers card scheme to connect carers with local discounts and sources of information and support
dedicated support and activities for young carers
Find out more about Carers Hub Lambeth
See Lambeth Top Tips and Signposting Information for Unpaid Carers
Find out about Lambeth Carers Card
See the Looking After Someone guide for carers from National charity Carers UK, who organise Carers Rights Day
Find out more about Carers Rights Day
Support for carers to stay well this winter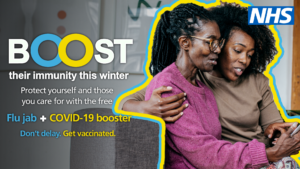 Boosting your immunity is one of the best ways carers can make sure they stay well through winter, when viruses such as flu and coronavirus can make older or more vulnerable people very unwell. People who care for someone else have a right to free flu and Covid vaccination, to protect themselves and those they care for through the winter.
Find out how to get free Flu and Covid 19 vaccinations for carers
For carers who may be facing financial hardship and struggling with energy bills, food costs and other issues this winter, support is available from Lambeth Council and others.
Find out about Cost of living crisis support from Lambeth Council, local charities, and community groups
And for carers who need advice on saving energy and staying warm indoors this winter, there is information on energy efficiency grants and services from Lambeth Council on their website
A new Carers Strategy for Lambeth
Earlier this month, local carers, community members and professionals came together online and face to face to share their views and ideas of what needs to change locally to improve support for unpaid carers. Along with responses to an online survey, all of these views and ideas shared during the consultation period will inform the refresh of the Lambeth Carers Strategy. Lambeth Council and partners are reviewing the information shared via these events and surveys, and will be drawing out the key themes and suggestions for improvements in the next few weeks.
A refreshed Lambeth Carers Strategy to improve support for carers will be shared with partners and stakeholders in the new year.