Walk-in COVID-19 Vaccination clinic success at Streatham Library
A 'pop-up' clinic at Streatham Library on Saturday 10 April saw 180 local people coming forward for their first COVID-19 vaccination, boosting Lambeth numbers and providing easy, high street access to this life-saving protection.
Those attending included many who were initially hesitant to get a vaccine, some who were not registered with a GP, as well as some registered patients who struggle to book appointments in the usual way.

Local GPs and vaccinators are protecting the community
The clinic was a great opportunity for people in the eligible priority groups to receive their first dose without having to book via the usual system – making it more convenient for people to get their vaccine locally.
It was run by the Streatham Primary Care Network – a grouping of 7 of the Streatham practices working together:  The Exchange Surgery, Palace Road Surgery, Prentis Medical Centre, Streatham Common Group Practice, Streatham Hill Group Practice, The Vale Surgery and Valley Road Surgery. The event was promoted using posters distributed through local shops, social media posts  and use of community networks as well as on-street promotion to spread the word.
Success stories from the day
The convenience of being able to walk-in was praised and helped facilitate vaccines being given to members of the community who would otherwise have struggled to get their vaccination including:
a man who had a very significant risk from Covid-19 who found it easier to walk into the library on the day as he finds attending appointments difficult
a couple who had been shielding for over a year who made their first trip out to the Library to get vaccinated
around 13 of those vaccinated on the day were not previously registered with a GP – registration was arranged for these individuals on the day to enable them not only to take up their vaccine on the day but also to access primary care services in future
Dr Justin Hayes, GP at Valley Road Surgery said:
"The clinic was a great success. We administered 180 doses to a wide variety of people including a significant proportion of people who would have been challenged to navigate the usual channels – meaning the opportunity for walk-in appointments with no booking required was greatly appreciated and effective."
"It has been good to work with a range of local colleagues who have all been very supportive."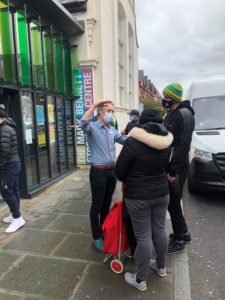 Photo of Dr Justin Hayes outside the Library
Colin Burns, who attended on the day said the following about his experience of getting his COVID-19 Vaccine at the clinic: "This was a very pleasant trip. It was straightforward, efficient and it all went very smoothly."

Photo of Colin Burns after his Vaccination
More information
Find more information about the COVID-19 Vaccine on the South East London CCG website and further updates about upcoming COVID-19 Vaccine Pop-up clinics in South East London
For local information about Lambeth's COVID-19 vaccination roll out see our Vaccination page.