Where to get health information and advice 
It can be difficult to know where to go for information on staying well, managing your health condition and getting help and support from the NHS, the council or other services. The information we provide here should help you get started.
Find information about health conditions
For information about different health conditions, symptoms and treatments and also for information on checks, tests and screenings available to you. Visit NHS Health A-Z.
Find an NHS service near you
The NHS website can help you find pharmacies, GPs, dentists, opticians, maternity, emergency services and more. Find an NHS service near you.
For information about health services in south east London including children's health, adult community audiology and hearing aids, NHS continuing health care, individual funding requests, personalised care, personal health budgets, primary care interpreting services and abortion services, visit www.selondonics.org/your-health
For information from our hospitals, visit:
For access to NHS services from your mobile phone
The NHS App lets you book GP appointments, order repeat prescriptions and access a range of other healthcare services. Find out more and download the NHS App.
Get general NHS Healthy Living Advice
For advice, tips and tools to help you make the best choices about your health and wellbeing and lifestyle, including managing your weight, eating well, help with stress, anxiety and depression, and exercise visit NHS Live Well.
For information on children's health including routine childhood immunisations in south east London visit www.selondonics.org/childrenshealth
For information on vaccinations for adults, including flu and covid, visit: www.selondonics.org/icb/your-health.
For information on coronavirus and covid vaccinations in south east London, visit  COVID-19 – NHS South East London (selondonics.org)
For information on staying well in very hot or very cold weather, visit Seasonal health – NHS (www.nhs.uk)
How and where to get the right medical help
It's important to get the right medical help if you think you need it. Our information will help you use the right service.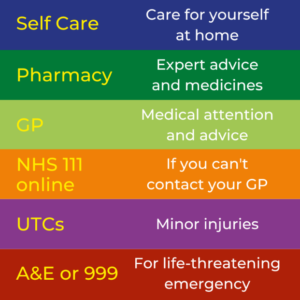 Hospital emergency departments (A&Es) are extremely busy. Only use these services when you have a serious health emergency or if you have been asked to attend by NHS 111 or another health professional (e.g GP, nurse, or pharmacist).
For minor health concerns consider self care or visit your local pharmacy
Self care is the best choice to treat minor illnesses such as coughs and colds etc. Use over the counter medicines and get plenty of rest. Get advice on self care for minor ailments from your NHS
Pharmacists can offer clinical advice and over the counter treatments for a range of symptoms for self care. We recommend that you keep a well-stocked medicines cabinet at home.
Pharmacists are qualified health professionals who are experts in medicines. Find a pharmacy near you
Selected Lambeth pharmacies can provide free health care advice, treatments, and medicines for common illnesses to those most in need. If you are eligible medicines are offered are free of charge . Read more about Lambeth's pharmacy first scheme
Many Pharmacies also offer seasonal vaccinations, eg covid and flu. Find out more about covid vaccination in Lambeth and south east London
For information on bank holiday Pharmacy opening hours in south east London.
For help from your GP surgery primary care team
Use your GP surgery's website, use an online service or app, or call the surgery. Your GP practice provides a range of services by appointment and will be able to assess your immediate needs as well as refer you into a specialist service if necessary. They also know your medical history so are best placed to manage your healthcare. Consultations with your GP team are available online, by phone and face to face. Extra appointments are available to 8pm on weekdays and 9am to 5pm on Saturdays at five GP hubs. Use your usual GP number to book. If you need an urgent appointment when your practice is closed, you may be offered one at a GP Hub nearby.
The primary care team at your GP practice includes GPs, nurses, advanced nurse practitioners, healthcare assistants and other healthcare professionals such as pharmacists or physiotherapists. You may be seen by any of them as appropriate to your clinical need. Find out more about who #YourPrimaryCare team are and what they do.
It's free to register with a GP and you do not need to provide a proof of address. Find a GP near you.
For non-emergency medical help
If you need help now and you're not sure what to do, go to 111.nhs.uk
If you're unable to get help online or if it's about a child under 5, call 111. (for free from a UK landline or mobile)
If you have an urgent medical problem and your GP is closed, calling NHS 111 can provide advice and if necessary make an appointment for you.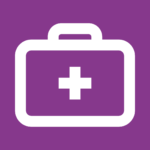 Urgent treatment centres

 

– when it's urgent but not life-threatening
Urgent treatment centres can quickly and expertly treat breaks, sprains and other non-life-threatening urgent health matters. 
There are urgent treatment centres at King's College Hospital and at Guy's Hospital.
If it's urgent and you're not sure what to do, you can also call 111 for free. They can direct you to the best help for your problem.

For emergencies
Always call 999 if you feel that your own or someone else's life is at risk. Find your nearest A&E
Staff in A&Es are specially trained to treat people with major injuries and the most serious and life-threatening conditions such as heart attacks, strokes, severe bleeding and child health emergencies. A&Es are not the best place for minor ailments or treatment for ongoing health conditions, and you may be advised to seek treatment from your GP or pharmacy if you attend with a non-urgent health matter.
Mental health support
Lambeth offers mental health support for children and adults as below
For mental health support if you're over 18
If you're worried about your mental health and need more support than your GP can provide; if you want to access talking therapy or self-help; or if you need help in a crisis, Lambeth Living Well Network Alliance has information on where to go. Find out more about mental health support in Lambeth
For emotional wellbeing and mental health support services for children and young people in Lambeth
Information on the full range of mental health and wellbeing support services for Lambeth children and young people can be found in a booklet produced by Lambeth Council. Read the booklet 'Emotional wellbeing and mental health support services for children and young people'