World Mental Health Day – talk about mental health with Healthwatch Lambeth
Lambeth marks World Mental Health Day with a free event from Healthwatch and free suicide awareness training.
World Mental Health Day takes place on 10 October every year. National and local organisations and groups organise events and activities either on the day or in the days surrounding it, putting a spotlight on the importance of mental health, support available for people and things people can do to protect their mental health. The them for this year's World Mental Health Day is mental health as a human right.
Our Minds, Our Rights – free event with Healthwatch Lambeth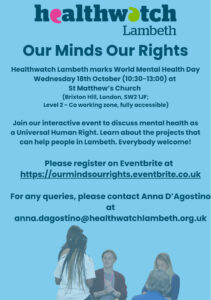 Join Healthwatch Lambeth's free, interactive event on Wednesday 18th October from 10.30am to 1pm to discuss mental health as a universal human right. And learn about different services and projects that can help people in Lambeth.
World Mental Health Day is also a chance to talk about mental health, how to look after it, and how important it is to get help if you're struggling.
Sabrina Phillips, Director, Lambeth Together Living Well Network Alliance, said: "We want people with mental health difficulties to have the support they need to recover, sustain their accommodation and avoid going into a crisis. Mental health is a fundamental human right that all people should be able to enjoy.
We're proud of Healthwatch Lambeth, our active partner on our Lambeth Together Board,  who share and support our aspirations for better health outcomes for everyone in Lambeth."
Register for the event
This event takes place in person at Saint Matthew's Church, Brixton Hill, London, SW2 1JF
Please register on Eventbrite.
For any queries, please contact Anna D'Agostino at anna.dagostino@healthwatchlambeth.org.uk
Get support
Lambeth's Living Well Network Alliance supports people in Lambeth who are experiencing mental illness or distress. Learn more about us and find out where to get help.
Free suicide awareness training for people who live, work or volunteer in Lambeth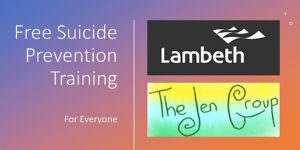 We want everyone who lives or works in Lambeth to have the skills and confidence to have conversations that can help prevent suicide. This half day course has been designed with Lambeth in mind, to provide local people and workers with the skills and confidence to have conversations about suicide.  These online training sessions are run by the Jen Group, working in partnership with Lambeth Council.
Suicide can be difficult to talk about. This training can help break the taboo and support everyone to have conversations about it in order to help save lives.
20 October 2023, 9.30am to 1pm.
7 November, 9.30am to 1pm.
1 February 2024, 1pm to 4.30pm.
Find out more and book on Eventbrite.